It is our sincerest desire to provide the best overall value for our customers by offering the widest range of items, the highest quality and freshness, the most organized and cleanest shopping environment, friendly associates and competitive prices.
Meats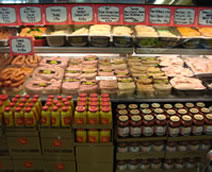 Our experienced butchers are dedicated to giving you the finest cuts of fresh meat everyday. Our full service meat department offers you so much more than your local supermarket. Our fast and friendly service is one of the reasons why we sell more meat per square foot than any other store in Western New York.
---
Fresh Sausage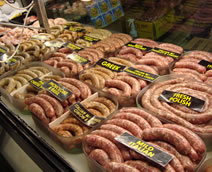 At Sloan Super Market we take pride in all our fresh made sausages.Starting with a 50 year old recipe we blossomed into making over 25 varieties daily using only the finest spices and freshest ingredients. The art of making sausage requires a passion for creating fine foods and experimenting until you get that special blend of flavors all packed into one.
---
Produce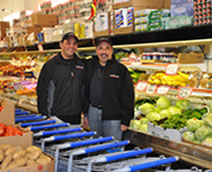 At Sloan Super Market we receive fresh produce everyday from local suppliers. More and more, people are understanding the importance of buying and preparing fresh produce, preferably from local sources. Our department might be small but we carry only the fastest moving items so our inventory turns quickly assuring you only the freshest and finest quality.
---
Deli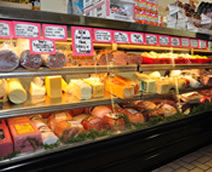 In our full service deli we stock a tremendous variety of deli meats and cheeses. We feature a lot of deli products from hometown favorites such as Sahlen's, Wardynski's, Battistoni's, and Camellia's. Our fresh sliced cold cut and cheese assortments provide the perfect blend of flavors and textures for any deli platter.
---
Seafood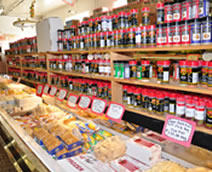 Whether you are craving delicious king crab legs, in search of meaty lobster tails, or dreaming of jumbo shrimp cocktail our seafood and shellfish collection has everything a seafood lover could desire. Impress your taste buds with bacon wrapped scallops, crabcakes, or one of our 5 crusted tilapias.
---
Grocery & Specialty Items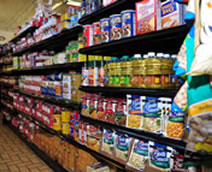 We pride ourselves on the variety and selection that we offer our loyal customers. We have pantry essentials required to prepare a gourmet meal at anytime. Complement our perishable departments with dry goods and you will have something special. Some of our specialty treats include olive oils and vinegars, marinades and mustards, pasta and vodka sauces, and much more.